WE PROGRAM PERMANENTLY PRODUCTIVE SPS SOLUTIONS.
The programming of PC-based PLC solutions (Soft-PLC) is the heart of our work, because here the control concept is put into practice. Hardware, electronics and networks are connected in programming to form a functional unit. We pay attention to the process-specific structure and use tested function blocks. Our software experts program in the programming languages LD, FBD, plain text (SCL) and IL.
NETWORKS AND BUS SYSTEMS
Communication is everything. Only by linking the various elements can an efficiently automated machine control be created. Our goal is intelligent networking through clear connections so that process data can be transmitted quickly and synchronously:
Networking of different control systems
Structure of I/O networks: EtherCAT®, ProfiNet, DeviceNet, INTERBUS, PROFIBUS, CANopen, ASi-bus
Connection of field components to control systems and servers
process simulation



VISUALIZATION OF PROCESS DATA
The graphic display of machine and process data is intended to facilitate communication between employees and the machine. With a practical understanding of processes in manufacturing and process engineering, we design user-friendly PC visualizations, graphics and touch panels. The clear provision of data and the comprehensible display of error messages on the user interfaces ensure that each process can be easily controlled and readjusted.
PRACTICAL DOCUMENTATION
A comprehensible description of the control sequence, the hardware and software as well as the creation of operating manuals are just as much a part of our craft as the clean execution of all programming work. Clear plans, readable network diagrams and practical instructions support the machine operators in controlling the processes. Service and maintenance work are also considerably shortened as a result.
​OUR COMPETENCIES
PLC programming
User Interface Design:
PC visualizations
Graphic and touch panels
I/O control networks:
EtherCAT
ProfiNet
DeviceNet
INTERBUS
PROFIBUS
CANopen
ASi bus
process simulation
documentation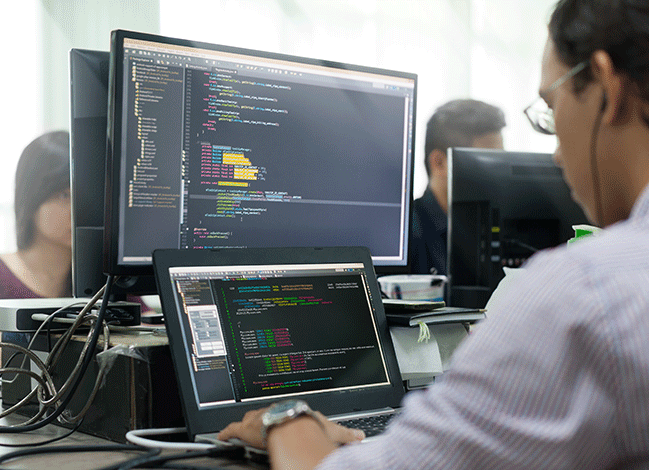 COMPETENCE IN THE TECHNOLOGIES OF THE MANUFACTURERS